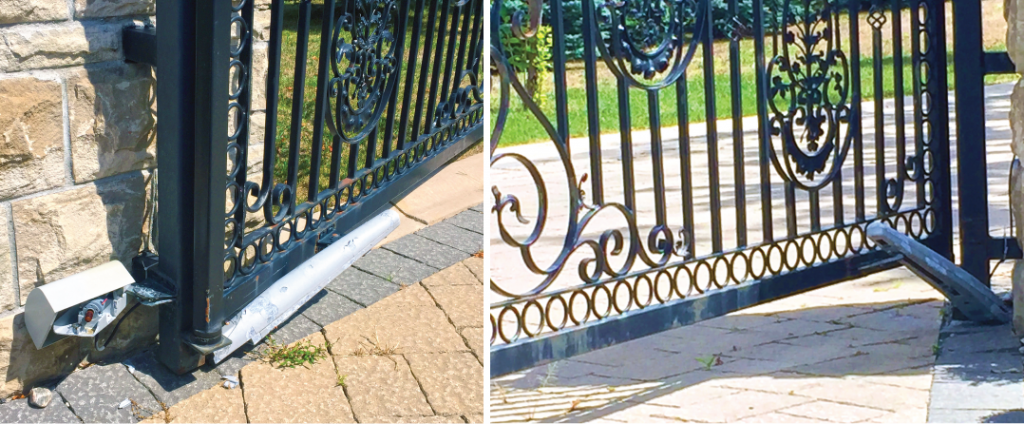 Sometimes the cheapest product isn't always the best alternative. This holds true when it comes to dealing with your automated gate systems. Some parts and operators are better suited for certain gates depending on a variety of factors including the style, height and weight of the traditional gate. Be an educated consumer and get the correct operator for the application that you are using. The cheapest bid is not always the right choice and could end up costing you more in the future, not just in terms of money, but your safety also.
When purchasing the operator to run your gate, you must take into consideration the size and weight along with the wind load factor that your gate upholds. Electro mechanical vs. hydraulic operators should always be your first question. Make sure you do your research rather than making an impulse buy, to ensure that you are getting the safest and most reliable application to suit your needs. In this application, illustrated above, the builder spent an enormous amount of money on the iron work of the gate, but went economy on the operator that bears the weight load while doing all the mechanical work and the damage of this decision is evident.
Need help knowing the pros and cons of certain applications? Or not sure which operator is the correct one for your gate? Don't fret, give us a call at (905) 951-8181 or email us at sales@advancedentrysystems.ca and we will be more than happy to help you through the entire process to ensure that the automated gate system you buy will be one that lasts and meets the needs of your household or business.